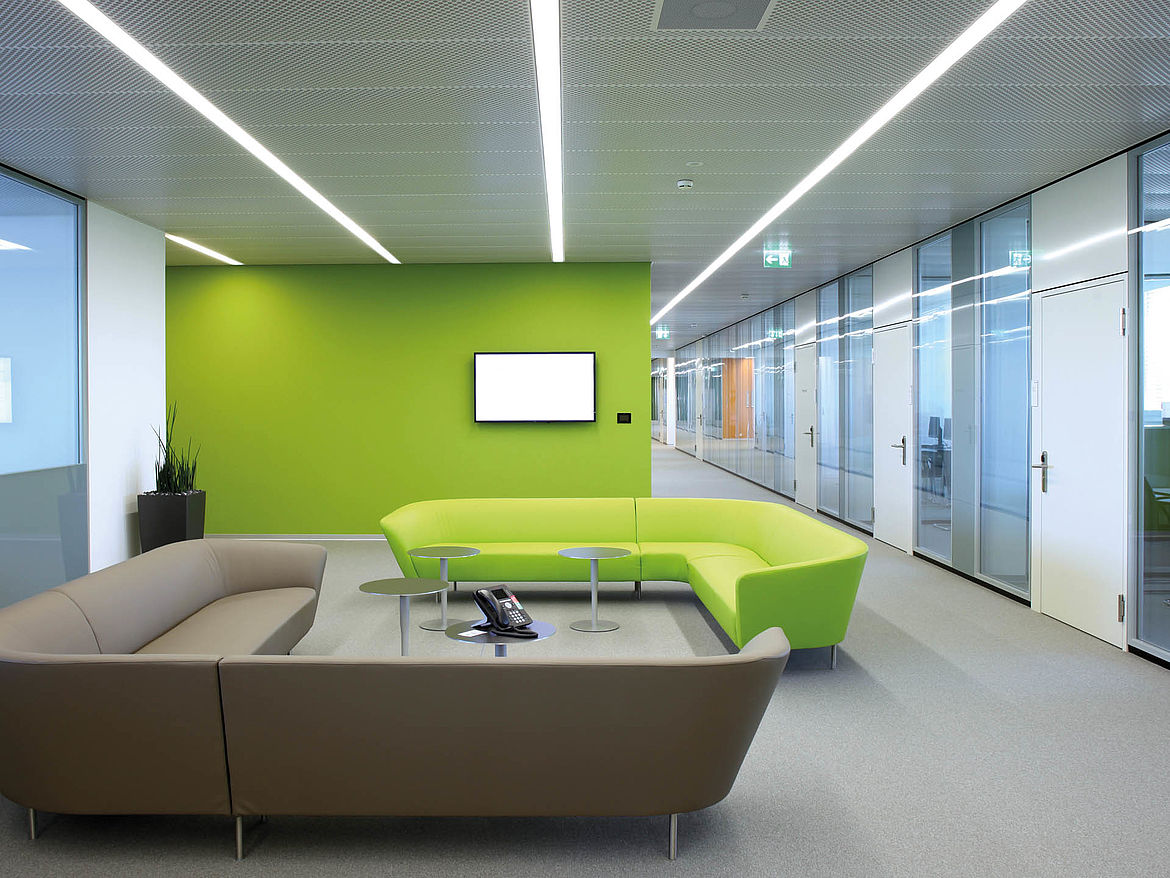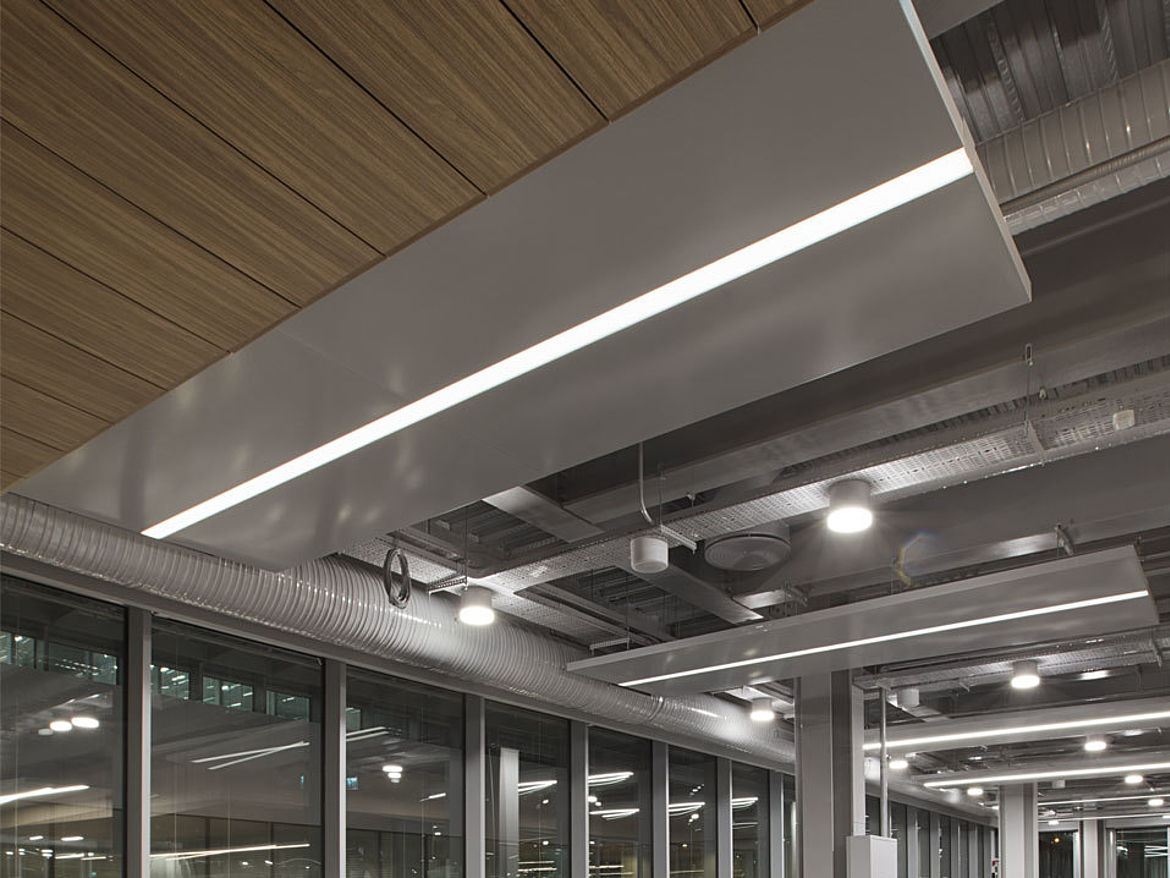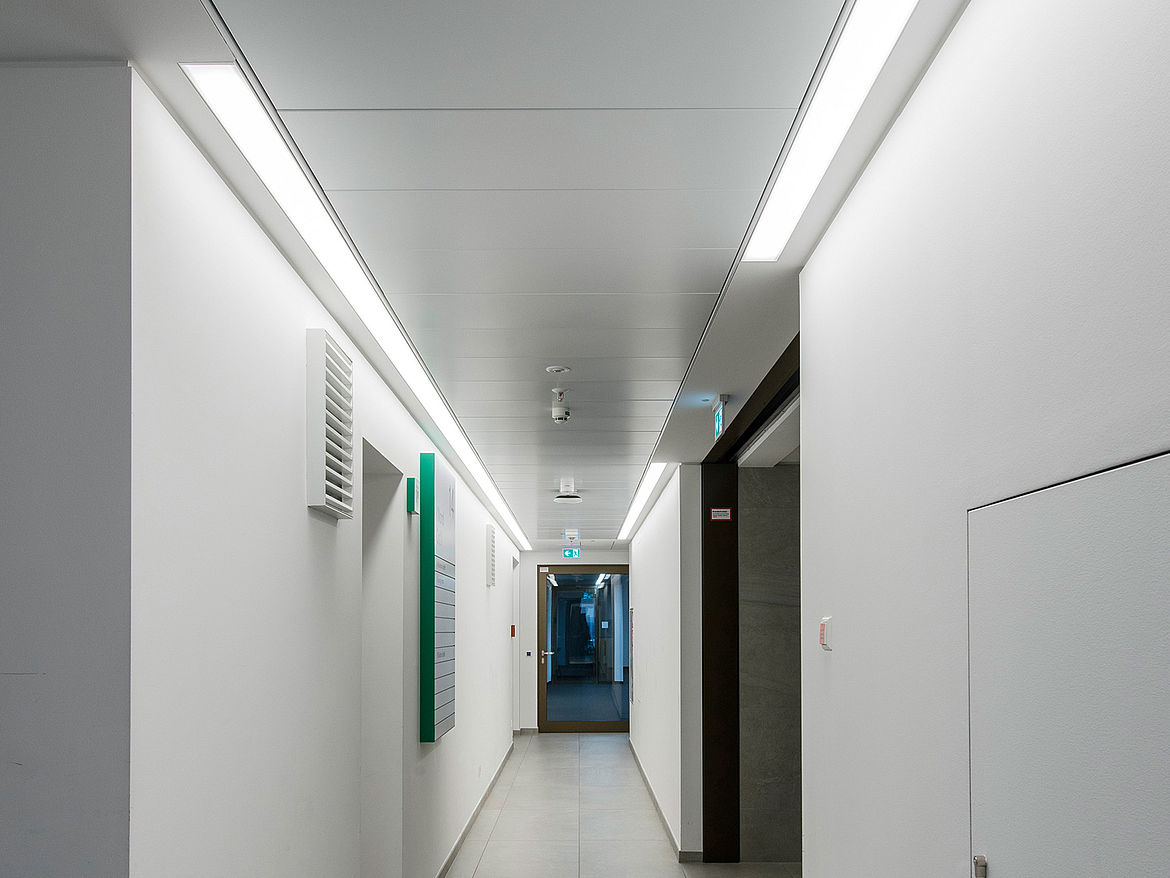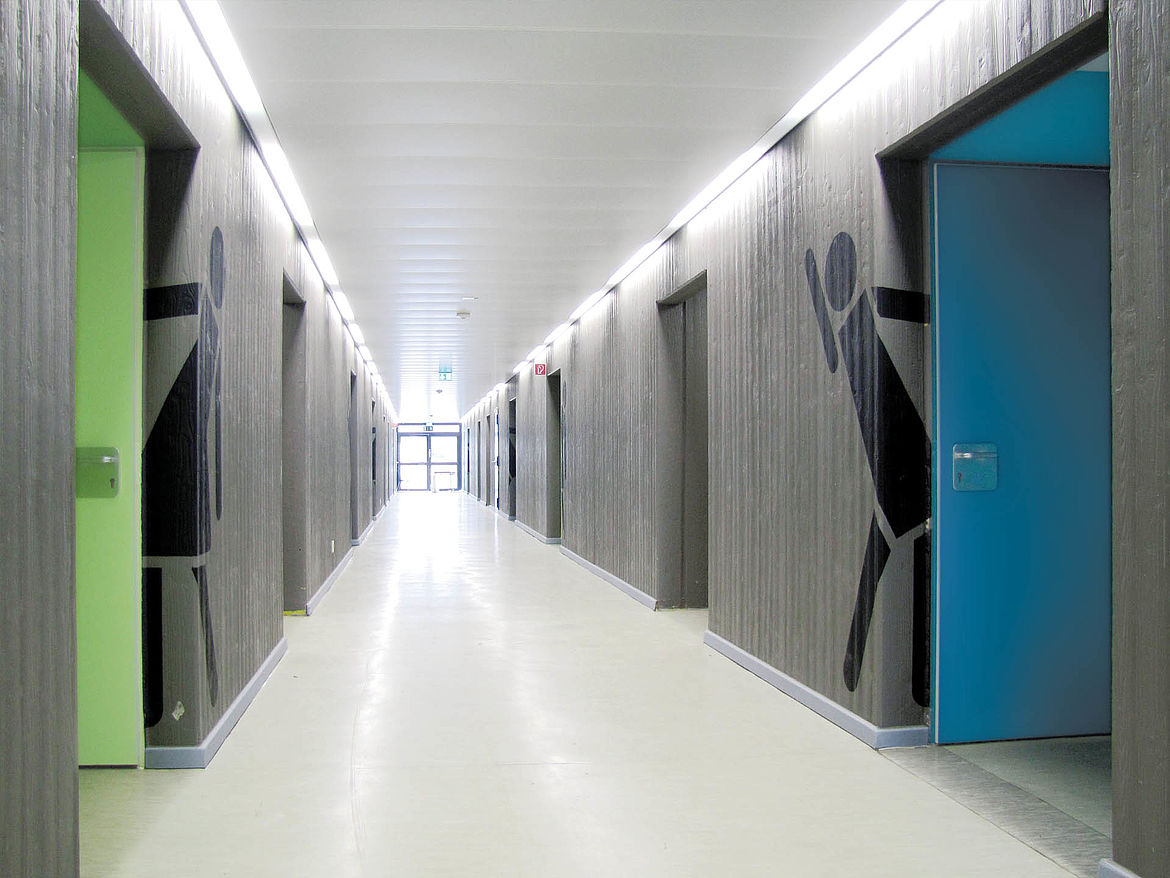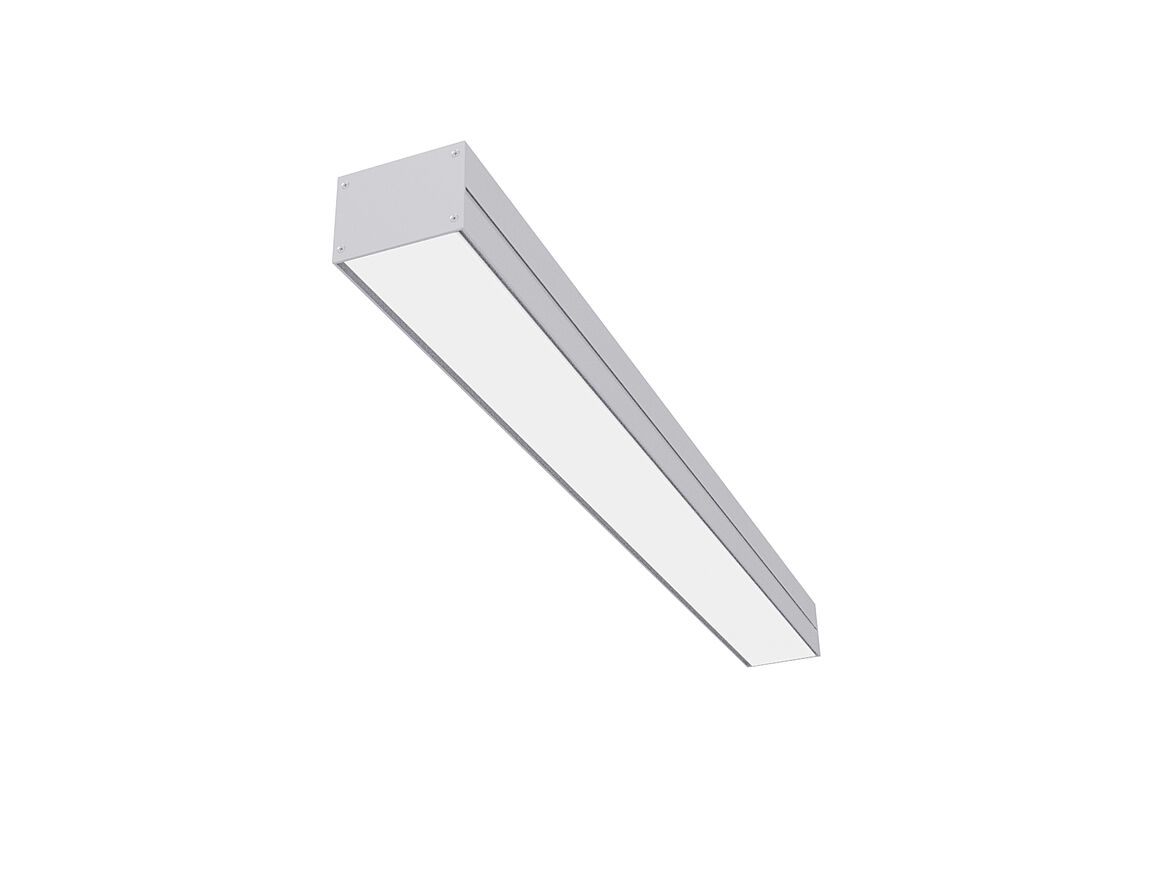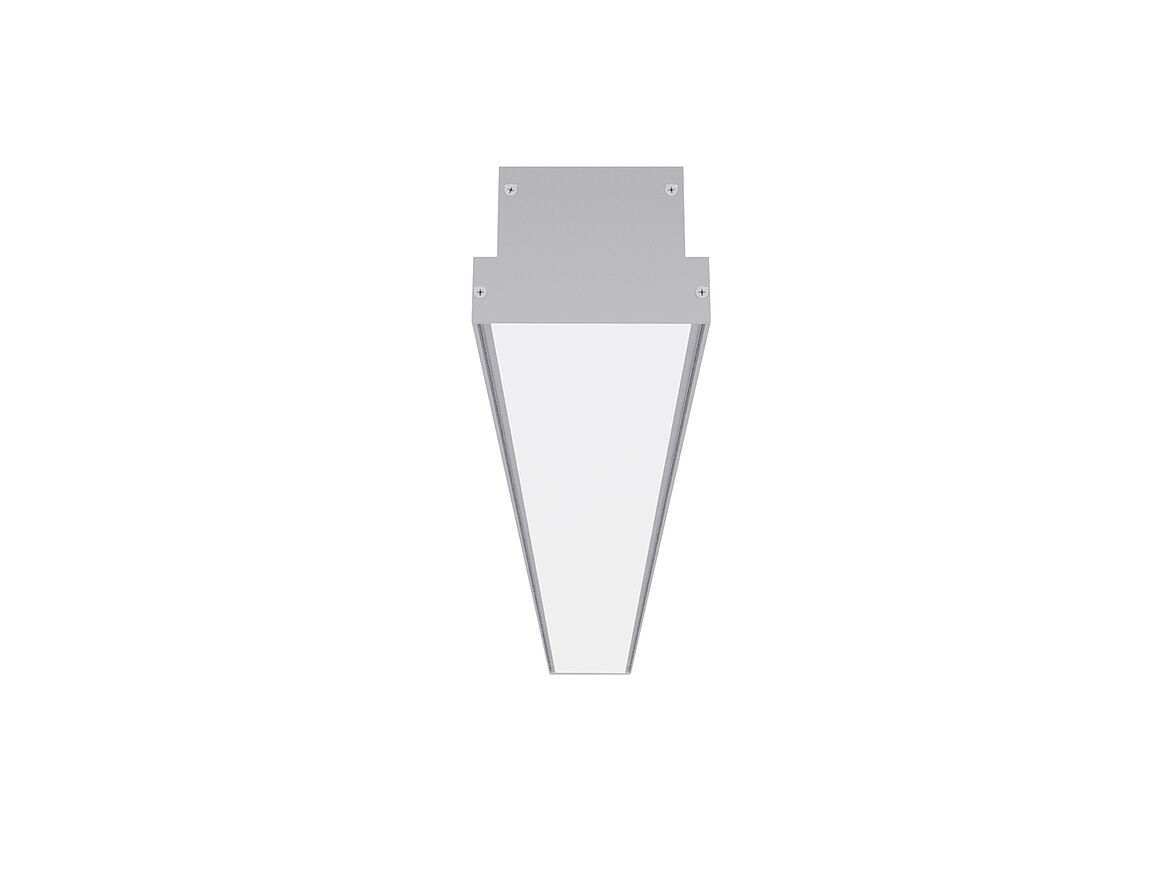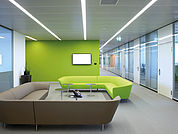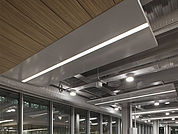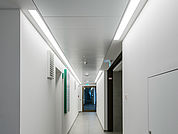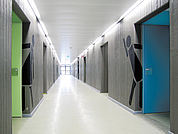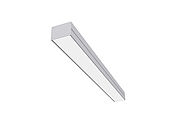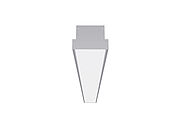 Designed for integration in suspended ceilings, this symmetrically radiant lighting channel system made of aluminium has a compellingly elegant design. The luminaire is available with various covers and, thanks to its wind protection, can if so desired be adapted for outdoor use. With the addition of SHELLY lighting technology, the lighting channel system can be used as for downlighting and as a wallwasher system.
Endless traverse is possible
Integration of technical building elements is possible.
Can act as a sub-structure for metal ceilings.
OMEGA 100/100E lighting channel system | Cover PMMA opal or microprismatic
Lighting channel
Width: 100 mm
Height: 73 mm
Surface: anodised aluminium, powder-coated on request

Covers
PMMA opal or microprismatic for UGR< 19 applications

Luminaire details
Light colour: 3000 K, 4000 K, CRI > 80
Luminaire output: 4626 lm/m (3000 K), 4832 lm/m (4000 K)
Dimmability: DALI dimmable
Driver: integrated
Power supply: 230 V/50 Hz
Protection degree: IP 20
Protection class: I
OMEGA 100 lighting channel system | Luminaire insert SHELLY 50
Lighting channel
Width: 100 mm
Height: 73 mm
Surface: anodised aluminium, powder-coated on request

Covers
PMMA opal or microprismatic for UGR< 19 applications

Luminaire details
Lighting colour: 2700 K to 5000 K (activatable or individual colour), CRI > 80
Luminaire output: up to 5375 lm/m
Dimmability: DALI dimmable
Driver: integrated
Power supply: 230 V/50 Hz
Protection degree: IP 20
Protection class: I
OMEGA 100 lighting channel system | Luminaire insert SHELLY 90 WALLWASHER
Lighting channel
Width: 100 mm
Height: 73 mm
Surface: anodised aluminium, powder-coated on request

Covers
Special reflectors for wallwasher applications

Luminaire details
Lighting colour: 2700 K to 5000 K (activatable or individual colour), CRI > 80
Luminaire output: up to 5375 lm/m
Dimmability: DALI dimmable
Driver: integrated
Power supply: 230 V/50 Hz
Protection degree: IP 20
Protection class: I
OMEGA 100 lighting channel system